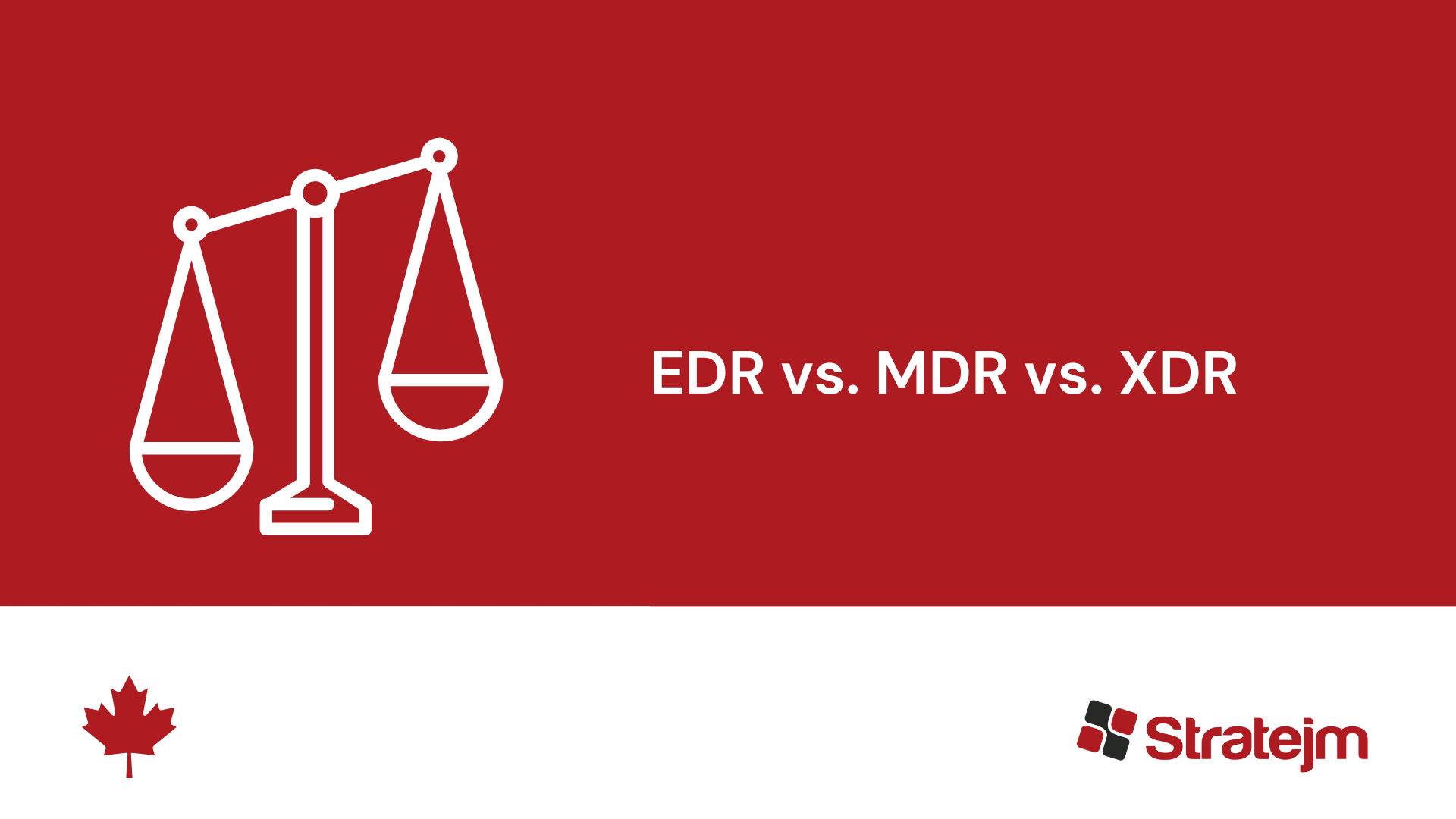 EDR vs MDR vs XDR
The cybersecurity industry is notorious for coining terms and acronyms that can quickly become difficult to fully comprehend. This ultimately makes navigating the vendor landscape a challenge for many IT departments, particularly when looking at endpoint detection and response solutions.
Today we explore three important detection and response tools:
Endpoint Detection and Response (EDR)
Managed Detection and Response (MDR)
Extended Detection and Response (XDR)
Endpoint Detection & Response (EDR)
Gartner first defined EDR as a group of emerging security solutions that detect and investigate suspicious activities on hosts and endpoints using a high degree of automation to enable security teams to identify and respond to endpoint threats more quickly.
Today, EDR solutions are security tools that allow organizations to capture all endpoint activity while leveraging advanced analytics to provide real-time visibility and incident response.
Endpoint detection and response solutions should include the following
Record and store queries
Endpoint monitoring and event recording
Detect threats and suspicious activity
Analyze behaviours and security events
Remediate threats
Allow security teams to detect and analyze suspicious activities more efficiently over time
By the end of 2023, Gartner predicts that more than 50% of all enterprises will have switched to EDR from legacy signature-based AV. (Source)
Managed Detection & Response (MDR)
 In short, MDR should include all EDR capabilities, but also includes a managed, human component that augments the security outcomes achieved through it.
In fact, MDR does not typically refer to a specific technology, but rather is a managed service delivered through a trusted managed security service provider (MSSP).
When considering MDR providers, try focusing more on outcomes and goals achieved rather than specific technologies and their features.
MDR providers should include the following capabilities:
Threat Hunting
24/7/365 Continuous Monitoring
Type 2 Security Operations Center (SOC)
Guided incident response and remediation
XDR – Extended Detection & Response
XDR is an extension of the traditional EDR platform by expanding the detection and response capabilities to cover ALL enterprise data sources.
In other words, XDR solutions streamline data analytics and workflows across the entire security stack by enhancing visibility around hidden and advanced security threats.
The main goal here is to bring the detection and response capabilities of EDR to provide a robust view across networks while providing a unified, single pane of glass view across multiple tools and across vectors.
Extended detection and response (XDR) solutions should include the following capabilities:
Diverse telemetry coming from multiple domains
Pulling together detection and response for endpoints
Centralized user interface
Data search, investigation and threat hunting across all covered sources
E-MDR – Enhanced Managed Detection and Response
Stratejm's Enhanced Managed Detection Response is a complete package of cybersecurity tools designed to provide the most complete protection for your organization.
E-MDR provides all the capabilities of XDR but also extends our coverage past network devices while also providing the superior logging capabilities of SIEM.
With Stratejm's E-MDR, you can achieve:
Resource augmentation
Greatly increased security maturity with 24×7 threat management
Faster time to value
Greatly reduced MTTR and MTTD